It has been a while since I have last written here. PHWOAR.
ANYwho..loads has happened! Besides my french exchange of course ;P
First was school (ick.)
and then...yeah..
Alright so nothing much has happened exactly BUT today and last week (Halloween weekend) was awesomely awesome!
I have probably never mentioned this before here but I am a verrh big Lush fan. It all started way back in 2007 when I was on vacay with my fam-jam in California. I was strolling on Ocean Ave. (Oh, Yellowcard..) and came across this store (particularly because of smell, and it's post-boxing day sale :P). I strolled right on through though the store was pretty crowded and all the sales assistants were preoccupied. I was really keen on purchasing something from this store (though I don't remember what exactly) but my mother unfortunately said no but said that Lush is in Canada and we could go there when we got back.
Since that time I have never stepped into that store until a year later. Funnily enough, I was shopping with my mom and my sis and a lady working at a hair salon came up to me and asked me if I could be her sort of guinea pig and cut my hair as part of her exam. I agreed to it, and my mom and sis continued shopping and left me there as her sort of, well, guinea pig.
Once she was done (which looked amazing and the only time I've had it as a pixie-ish cut) I saw that my mom and my sister weren't finished their shopping trip. So I walked about the mall until I came across Lush after what seemed like a while since I stepped into that store.
I strolled in, not quite sure what to expect here. It was a lot smaller than the one I went to in California, and extremely bare. The scents were overwhelming I guess though this store seemed very unique and nothing like other stores (i.e. Body Shop, Fruits and Passion, etc.)
Once I walked inside, the sales assistant immediately came up to me and asked questions etc. (the famous one: "Is this your first time at Lush?") In the end, I bought a cleanser called Herbalism which is for oily skin and nothing else since I was short on money (costed quite a bit for me, around $14.00, though like a deli shop you can purchase it by the amount you want based on grams (or even Kg...though that's going a little ahead of yourself I think :P). I left the store and right as I walked out, I spotted my sister and my mom.
Since then, I have been going back to the store, especially recently this year. But right before the more frequent visits, I discovered their other numerous products that they sell from their catalogues and online store.
Being me, (cheap) I like to go for the great (and cheap-ish) deal. Earlier in May, they had a deal called "Naked" which was a package where you got a soap (Sexy Peel), a toner tab, a cleanser (I chose Coal Face), a body butter (Buffy), a massage bar (Therapy) and a solid shampoo (Squeaky Green) bar for $20.00 (plus tax >_>) They're good but felt that this was not long lasting (only two months and with the shampoo and the body butter...less than that)
In August, I went with my sister and a family friend back at the Lush in my nearby mall (Mississauga--Square One). This is one of my favourite visits because this is where I (we) really got to chat with the sales assisstant and literally spent an hour in that store conversing with her. She described the store's objectives etc. (organic, handmade, local, environmental, 99% vegan) aka stuff I already knew :P (but my sister and my family friend didn't...in fact they always though I was going crazy for this store but boy they were wrong!) but then she started talking about their whole haircare line. This intrigued us all because I'll admit even though I did use Squeaky Green it was just a sample and the only shampoo product I knew they had.
Some smelled wonderful (Godiva, which I purchased) and one smelled like Bacon (she told me how appealing it was for some guys LOL) ANYwho...what actually convinced me to buy the Godvia shampoo (besides the smell) was how long-lasting it was compared to bottled shampoos and their return policy!
Apparently, if you don't like it (or want to be cheap) you can return it within a month or so and there should at least be 25% of that product left after what you have already used of it and get a full refund with your receipt.
I bought Godiva in August (I think the 20th). It is now November and I have 50% of it left. The price was $9.95 which is around the same price as the huge Costco shampoo bottles I'm guessing but this lasts just as long as those ones, if not longer. Of course, I shampoo my hair every alternate day so it depends how many times you wash your hair of course.
Besides showing us the shampoos and conditioners (loved American Cream!) she was the first sales assistant to give us "demos" on things (actually when I went in May the sales lady gave a demo with the Strawberry Feels Forever massage bar and the Vanilla Dusting Powder--Wonderful Combo!) but specifically gave a demo with the bath bombs and bubble bars. My sister and I were impressed with SunnySide; the water looked like liquid gold! and the bubbles looked fantastic! Made me nostalgic for a bit I'll admit. The sales assistant also showed us some massage bars that sparkle and mentioned how it's perfect for being Edward for Halloween.
I thought about her suggestion and found it to be an excellent idea this Halloween; all I would need is that massage bar (called Shimmy Shimmy) and a set of fangs.
After the Lush trip in August I went again in October with my dad to purchase the Shimmy Shimmy bar. But as I looked around I saw that Sunny Side has tons of sparkle and would be a better purchase since it was cheaper than Shimmy but more sparkly. Thing is, just as I was about to buy a Sunny Side bath melt, the sales assistant asked me what this was for and my dad mentioned how I was being Edward (AS A JOKE) durh, and she strongly recommended using Shimmy Shimmy.
So my dad thankfully purchased it and even my dad bought a massage bar and a bath bomb. Anywho, when halloween time came I discovered (and dreaded) that shimmy shimmy would not work over makeup whatsoever. I brought it to school instead and made other people sparkle for fun (esp. for guys) and for other people's costumes as well (one girl dressed up as a fairy so I massaged some of it onto her skin and she looked spectacular!)
Last weekend, (Halloween day actually) I exchanged the shimmy Shimmy for Sunnyside and because I still had extra money I bought a Tea Tree Toner Tab (1.95 each). In addition, I decided to purchase their face masks, which was called Love Lettuce.
In addition, you got to make some "sugar skulls" which was pretty fun though they didn't really advertise it so no one really knew about it :S (then again....their advertising it through word of mouth, online websites, and catalogues) Here are some picks of my sugar skull! I threw it out today...I've had it over a week and even when I made it it smelled like wet dog XP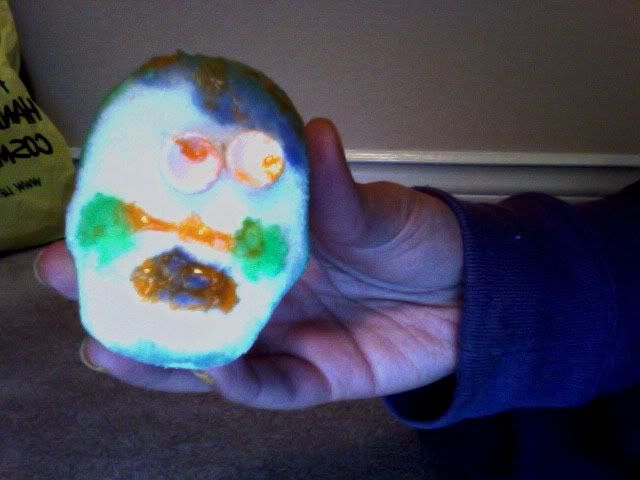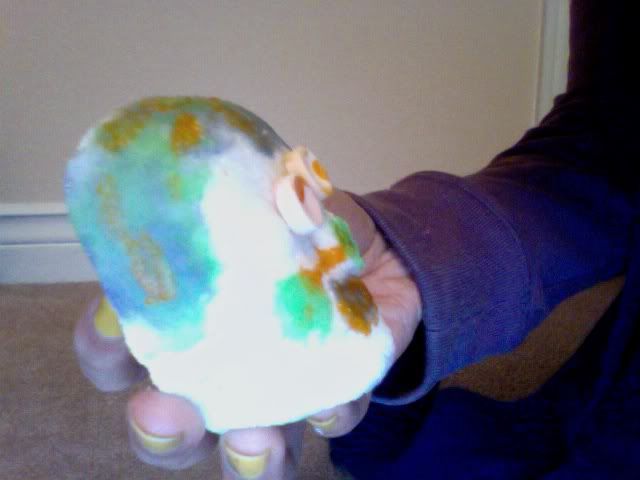 I mainly decorated it with icing. The eyes are two rockets :P.
Now, when I purchased the Shimmy Shimmy bar with my papa, the cashier lady told me to come for their re-opening party (as they re-did their store...looks classy though I preferred their old logo) which was on November 7 @ 12-6. If I RSVPed now I would get a free limited edition Comforter shower gel (100 mL). I RSVPed (obviously) and today when I went I could not believe how crowded that store was! They even had ropes and all at the entrance to the store!
I was astounded to say the least. I told her I was on the list and got the shower gel (yay!) They even had a draw to win their Lush Legends Gift Pack (most expensive thing in the store...199.99) I put my name and info in there and I am assuming by now that I have unfortunately lost :( but that's okay!
Once I got inside, a sales assistant showed a demo to me and were being very friendly despite the ridiculous crowd! There was a DJ, cupcakes, and some great refreshments (sparkling apple pomegranate juice--simply delicious!) I went around 12:30...the party itself started at 12 and the fact that they had so many people is pretty great!
Anyway, I bought some things (being like Becky Bloomwood..sigh) but got a free package of some their holiday goodies and a free spin at a wheel for an extra prize!
Overall, that was an amazing party, though it was impossible to stay for so long.
Here are some of things I bought and got free(ish):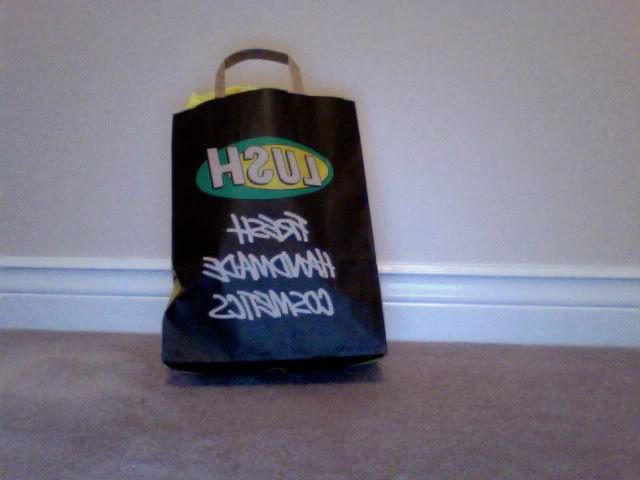 Bag of Goodies :3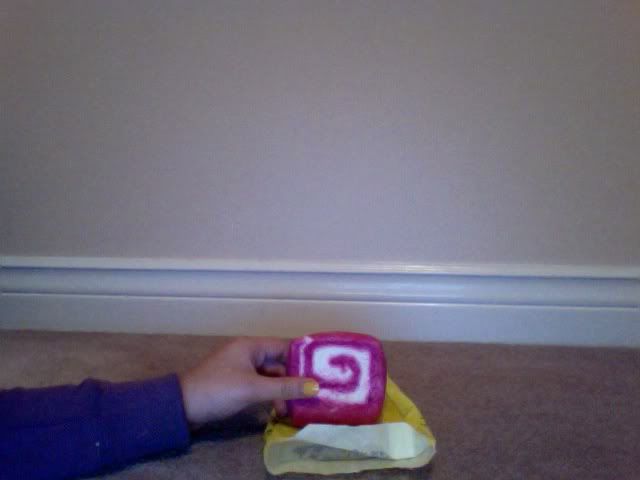 I bought the Comforter Bubble Bar alongside the showergel. Especially during the wintertime, bubble baths will definitely keep be warm and relaxed (and less tense due to exams/homework) In the catalogue, they nickname it Blackcurrant Bliss.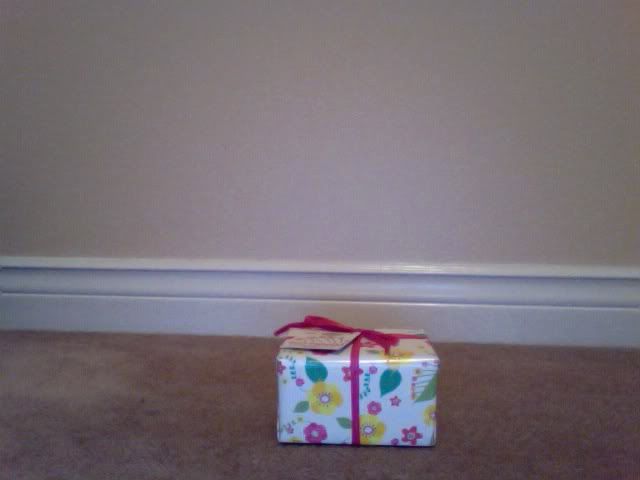 This is their cheapest "Gifts" called Buttercup. It contains Honey I Washed the Kids soap and a Butterball bath bomb. costs 9.95
This is the prize a got from spinning the wheel. It's called The Olive Branch and it is a shower gel. Smells like madarins with a hint of vine leaves.
Ahh, Herbalism. It's always been a classic staple for me (Coal Face is another one that works for oily skin). A lot of people retract from it due its mossy look, but I quite like the smell (much better than turmeric paste if you ask me) It really works with my skin.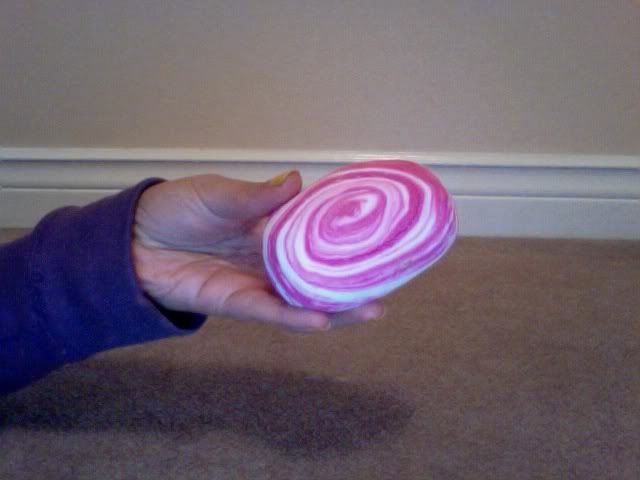 Wait...you bought another Comforter?! Actually..no. It was part of the gift deal. It looks like comforter, but it is not. It is called Candy Cane, and it smells like Vanilla (natural of course)
Slightly blurry (sorry bout that) but that is Winter Bath Bath Bomb. It's very strong and somewhat spicy actually but in a good way. It's got ginger, clove, lemongrass and even some soya milk.
Snowcake Star Soap. Another free deal thingy.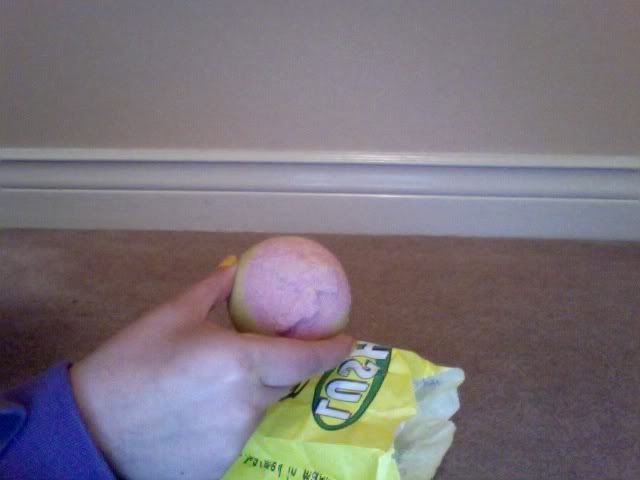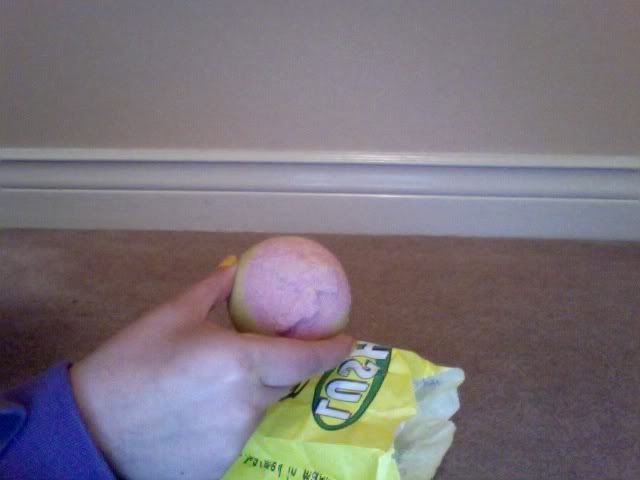 This one's called Sugar Plum Fairy. The pink stuff is actually free trade sugar. This is a "body buffer" used for showers.
Some things I forgot to show that I bought today are: cupcake face mask and Aromaco--a solid deodorant bar.
WELL...it's getting late and I have gone off one quite a story/rant about Lush. But really, if you have come to the end of this post, check out Lush. It is totally worth it.
*Edit: a little bit after boxing day (2009) I went to Lush since they were having a sale (buy 3 bars for the price of 1) And I bought Porridge, Alkmaar, and Rock Star. Honey I washed the kids and Porridge were very popular and all of them were out (except for Porridge considering I got the last bar lolz) ANYwho...I liked the porridge the least since I found it too rough when lathering my body. I fell in love with Rock Star which is vanilla flavoured and Alkmaar which smells like jasmine.
*Edit x2: I also purchased Charity Pot last year. Their body lotions are a bit pricey (especilly Creme Anglaise!!) but Charity Pot is definitely worth your buck. All of the money goes to charities (mentioned in their catalogues) except for the taxes (obvs) and it smells amazing! Perfect for wintertime, i literally carried it everywhere!